PANGEA-RISK INSIGHT is a specialist intelligence membership platform that delivers accurate, decision-ready, and commercially relevant forecasts and analysis on political, security, and economic risk in Africa and the Middle East to a wide-ranging spread of client sectors.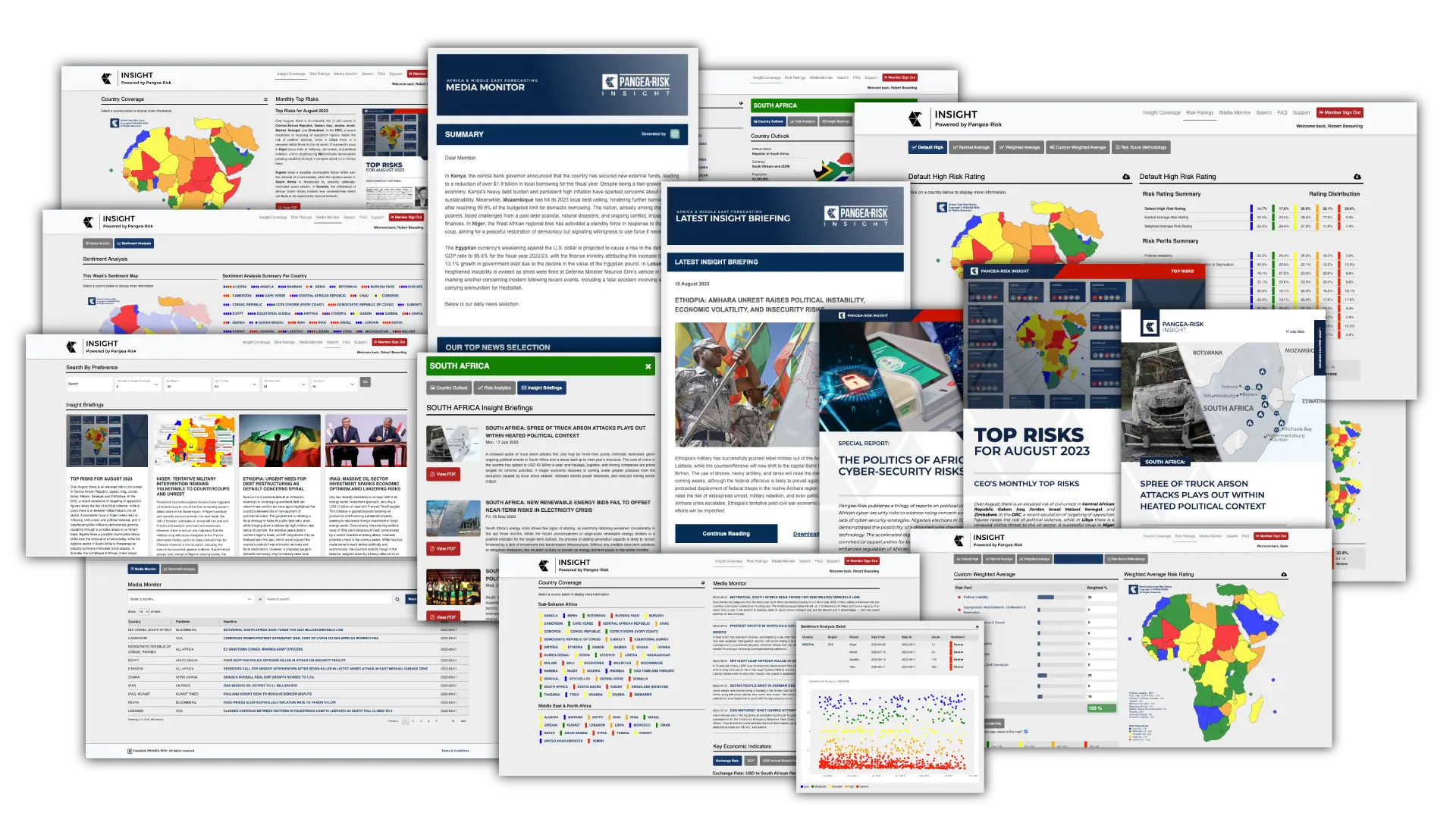 All country risk analysis is supported by local source intelligence, and driven by proprietary risk methodology presented on a cost-effective, centralised, and user-friendly platform.
Book a platform trial
PANGEA-RISK ANIMATED INFOGRAPHICS
(For best viewing switch on sound)
PANGEA-RISK FREE-TO-READ INSIGHT BRIEFINGS
(Download a complimentary PDF copy of our recent analysis picks)
MONTHLY INSIGHT - NOVEMBER 2023
Wed, 29 November 2023
Chinese official loans to Africa are at a 20-year low, as China steadily reduces engagement on the continent. The upcoming China Africa FOCAC summit in 2024 in Beijing will again confirm a downward trend in development funding and infrastructure lending to Africa by its biggest creditor. As China's hegemony in Africa recedes, it creates opportunities for other global powers, such as the United States and Europe, as well as so-called "middle powers" from the Gulf region to increase their footprint in Africa. Several recent and upcoming international summits underline this shifting trend.
IRAQ: GAZA WAR TESTS POLITICAL STABILITY GAINS AND FOREIGN INVESTMENT APPEAL
Wed, 22 November 2023
The Israel-Hamas conflict's escalation is increasingly impacting Iraq's political and security landscape. Iran-backed militias are targeting United States (US) forces, leveraging the conflict to advance their strategic goals in Iraq, while the US responds with airstrikes and heightened defence measures. This is happening during a period when Prime Minister Mohammed Shia Al Sudani's administration has been focusing on political stabilisation and infrastructural development amidst legislative hurdles and intricate regional diplomacy. In the energy sector, Iraq is shifting to diversify its gas sources, particularly through a significant agreement with Turkmenistan, aiming to lessen dependency on Iranian gas. Economically, Iraq is confronting a forecasted GDP contraction driven by declining oil prices and currency devaluation, with substantial budget allocations directed towards stimulating non-oil GDP growth and bolstering infrastructure development.
SPECIAL REPORT: WHERE NEXT FOR ISLAMIST MILITANTS IN THE SAHEL?
Wed, 08 November 2023
The central Sahel region is grappling with a severe deterioration of insecurity, primarily driven by the expansion of Islamist militant groups. Resultant political upheaval, characterised by multiple coups, has led to a significant reduction in international military support, notably from French and United Nations peacekeeping forces. Their withdrawal has not only emboldened militants, but also left the Sahelian security forces without crucial intelligence and military support, potentially allowing militants to extend their reach towards the Gulf of Guinea. The formation of the Alliance of Sahel States, a regional defence pact, may offer some coordination in counter-terrorism efforts but does not fully mitigate risks derived from intensifying insurgency. The militants' territorial gains and the resurgence of the Tuareg insurgency in Mali threaten the stability of the region and have led to a spike in violence, with commercial operations, especially in the mining sector, facing heightened risks.
MONTHLY INSIGHT - OCTOBER 2023
Tue, 31 October 2023
In October, our attention shifted to the Middle East following the attack on Israel by militant group Hamas and the subsequent Israeli counteroffensive on Gaza and its border regions with Lebanon and Syria. In coming weeks, we will be closely monitoring indications of conflict contagion to strategic countries lining the Strait of Hormuz and the Red Sea, as far as Eritrea. But our focus on the Middle East has been more diverse and strategic, so we have published extensively on ambitious economic diversification initiatives and proposed expansion of regional trade corridors.
ANGOLA: IMPEACHMENT BID FAILS AGAINST BACKDROP OF GROWING POLITICAL, SOCIO-ECONOMIC GRIEVANCES
Fri, 27 October 2023
A failed opposition-led impeachment motion against Angola's President, João Lourenço, is indicative of growing public grievances against the MPLA government, which the opposition UNITA party has sought to capitalise on. While the government faces mounting fiscal challenges due to falling oil revenues, currency depreciation, and rising debt, the rise in public discontent has limited its ability to implement a reform agenda. Nonetheless, the medium-term economic outlook has improved amid a surge in new investments, including into oil and gas exploration and major cross-border transport infrastructure projects.
SAUDI ARABIA: NON-OIL GROWTH AND DIVERSIFICATION EFFORTS ARE ADVANCING RAPIDLY
Wed, 04 October 2023
Saudi Arabia's economic diversification efforts under the Vision 2030 initiative are showing promising signs. While Saudi Arabia's real GDP growth has slowed in 2023 as oil production has been cut, its private non-oil economy continues to grow robustly. This growth is driven by robust domestic consumption, non-oil private investment, and the growing investments in "giga-projects". The kingdom has also initiated new Special Economic Zones (SEZs), attracting USD 12.6 billion in investments, with an additional USD 31 billion underway. These SEZs, designed to support the non-oil sector, offer attractive incentives and a conducive environment for sustainable business growth, thereby presenting enormous opportunities for investors.
MONTHLY INSIGHT - SEPTEMBER 2023
Thu, 28 September 2023
I founded Pangea-Risk's legacy company eight years ago this month and since then our subscription members have enjoyed access to the Insight country risk intelligence platform. To celebrate our anniversary, this September we launched a brand-new version of the Insight platform with enhanced interactivity, including animated infographics and audio options. We also introduced a layer of artificial intelligence alongside local source intelligence as the basis of our forecasting methodology to keep up with fast changing times. Most importantly, the new platform is secure, lightning-fast, and easy to navigate. Reach out for a free trial if you are keen to look around!
ETHIOPIA: BRICS INDUCTION AND CHINESE DEBT SUSPENSION OFFER RELIEF FROM INSECURITY RISKS
Thu, 21 September 2023
At last month's BRICS summit held in Johannesburg, Ethiopia marked two significant milestones. Firstly, the Horn of Africa country was formally inducted into the BRICS grouping, a reflection of its growing geopolitical and economic influence. Secondly, during the same summit, leading BRICS member China, which is one of Ethiopia's major creditors, announced the suspension of Ethiopia's debt maturing in the 2023/24 fiscal year under a G20 framework. This financial relief is particularly crucial given Ethiopia's substantial debt obligations and recent creditworthiness concerns highlighted by a credit rating downgrade. However, these developments are juxtaposed against a backdrop of escalating security concerns, with ongoing hostilities between national defence forces and local militias in the Amhara region.
SPECIAL REPORT: ASSESSING THE POLITICAL AND ECONOMIC IMPACT OF MOROCCO'S EARTHQUAKE
Wed, 13 September 2023
The magnitude 6.8 earthquake that struck Morocco's Marrakech-Safi province on 8 September has precipitated a multifaceted crisis. The potential economic repercussions are significant, given the affected regions' substantial contribution to Morocco's GDP. The government's handling of the crisis, especially its outreach to marginalised communities, could further strain political stability, with potential implications for Prime Minister Aziz Akhannouch's administration. The disaster has also spotlighted the government's selective approach to international aid, raising questions about the balance between humanitarian needs and diplomatic considerations.
MONTHLY INSIGHT - AUGUST 2023
Thu, 31 August 2023
Our inquisitive minds at Pangea-Risk, have been preoccupied over the usually tranquil month of August with several pressing questions… Firstly, what would be the commercial impact for our clients of a full-fledged inter-state war in West Africa in the improbable scenario of a military intervention in Niger? Related to this, we ask which other African countries are at risk of military unrest, as we shift our focus to Central Africa following this week's meticulously orchestrated coup in Gabon. If you have been taking some time off over the northern hemisphere summer holidays, this newsletter is all you need to read to get back on top of events in Africa and the Middle East.
SPECIAL REPORT: IMPASSE OVER NIGER DRIVES FRESH INSECURITY AND CONTRACT RISKS IN SAHEL REGION
Tue, 29 August 2023
One month since the military coup in Niger, the probability of a mediated solution remains more likely than a much-touted regional military intervention, which would risk drawing in more Sahel states into a full-fledged inter-state war. However, the political impasse in Niger is exacerbating regional insecurity, with more attacks recorded on the northern borders of Ghana and Togo, which are seeking outside security support to halt the southward wave of Islamist militant attacks. Meanwhile, the coup-struck Sahel states are steering into a new policy direction, raising contract risks in commercial sectors such as mining and infrastructure.
QATAR: LNG DEALS BOLSTER GEOPOLITICAL POSITION AND SPUR LONG-TERM ECONOMIC GROWTH
Wed, 23 August 2023
In June 2023, Qatar signed a long-term gas supply deal with a Chinese state-controlled company, following an identical deal with a different Chinese state firm last November. This bodes well for long-term energy exports, and further energy contracts with Asian and European nations will likely be announced in the coming months. The Ukraine war has continued to amplify Qatar's prominence in the LNG market, enabling it to diversify its gas exports and solidify partnerships. However, while long-term contracts bolster Qatar's position, they expose it to contractual disputes, especially with changing global LNG demands. Additionally, the shift to renewables threatens Qatar's LNG market dominance in the long term.
Get The Latest News From Pangea-Risk
Please submit your details to receive our Monthly Newsletter, including complimentary risk analysis, editorial, and infographics.
MEDIA INTERVIEWS
(For best viewing switch on sound)