PANGEA-RISK INSIGHT is a specialist intelligence membership platform that delivers accurate, decision-ready, and commercially relevant forecasts and analysis on political, security, and economic risk in Africa and the Middle East to a wide-ranging spread of client sectors.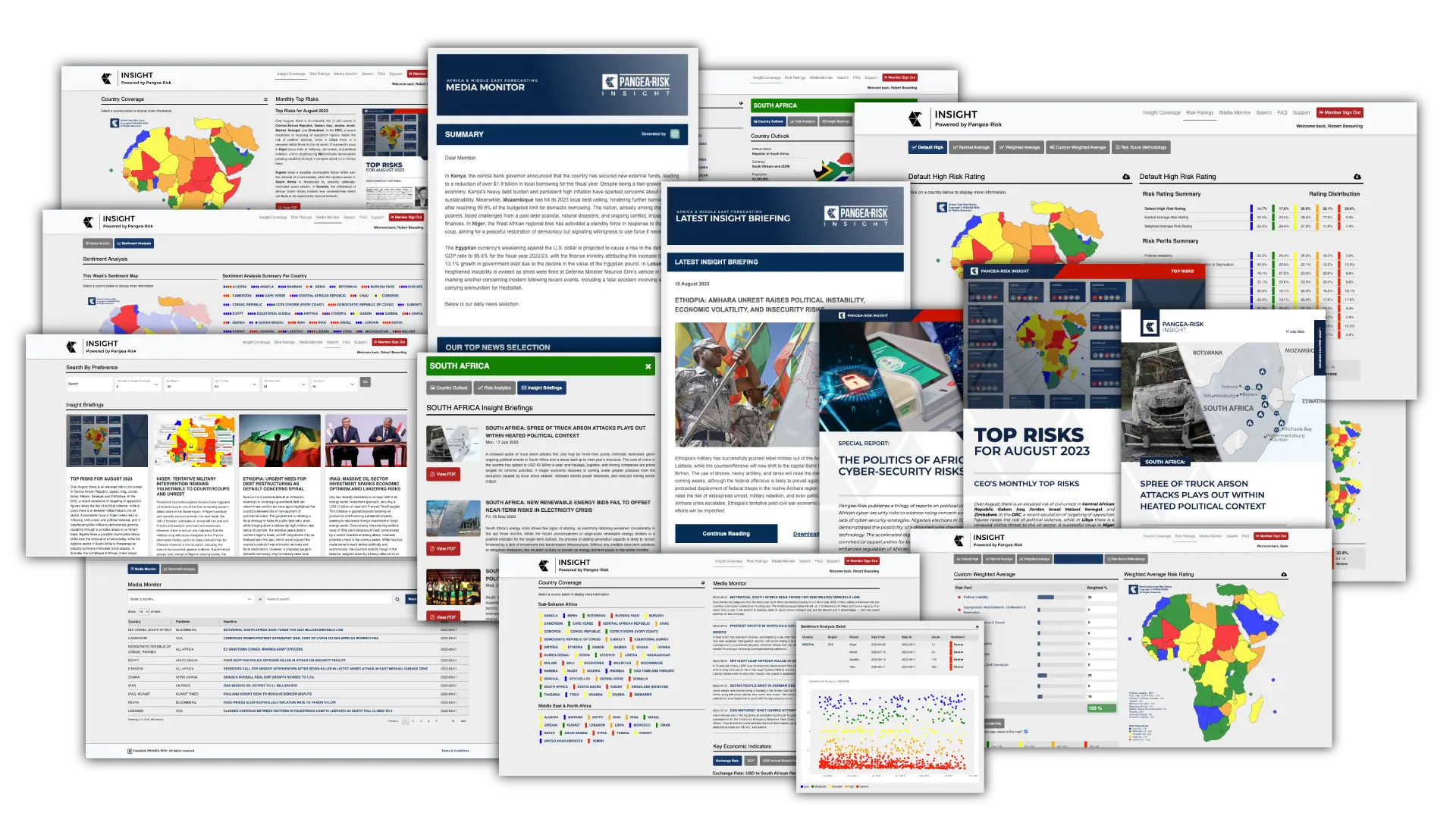 All country risk analysis is supported by local source intelligence, and driven by proprietary risk methodology presented on a cost-effective, centralised, and user-friendly platform.
Book a platform trial
PANGEA-RISK ANIMATED INFOGRAPHICS
(For best viewing switch on sound)
PANGEA-RISK FREE-TO-READ INSIGHT BRIEFINGS
(Download a complimentary PDF copy of our recent analysis picks)
MONTHLY INSIGHT - AUGUST 2023
Thu, 31 August 2023
Our inquisitive minds at Pangea-Risk, have been preoccupied over the usually tranquil month of August with several pressing questions… Firstly, what would be the commercial impact for our clients of a full-fledged inter-state war in West Africa in the improbable scenario of a military intervention in Niger? Related to this, we ask which other African countries are at risk of military unrest, as we shift our focus to Central Africa following this week's meticulously orchestrated coup in Gabon. If you have been taking some time off over the northern hemisphere summer holidays, this newsletter is all you need to read to get back on top of events in Africa and the Middle East.
SPECIAL REPORT: IMPASSE OVER NIGER DRIVES FRESH INSECURITY AND CONTRACT RISKS IN SAHEL REGION
Tue, 29 August 2023
One month since the military coup in Niger, the probability of a mediated solution remains more likely than a much-touted regional military intervention, which would risk drawing in more Sahel states into a full-fledged inter-state war. However, the political impasse in Niger is exacerbating regional insecurity, with more attacks recorded on the northern borders of Ghana and Togo, which are seeking outside security support to halt the southward wave of Islamist militant attacks. Meanwhile, the coup-struck Sahel states are steering into a new policy direction, raising contract risks in commercial sectors such as mining and infrastructure.
QATAR: LNG DEALS BOLSTER GEOPOLITICAL POSITION AND SPUR LONG-TERM ECONOMIC GROWTH
Wed, 23 August 2023
In June 2023, Qatar signed a long-term gas supply deal with a Chinese state-controlled company, following an identical deal with a different Chinese state firm last November. This bodes well for long-term energy exports, and further energy contracts with Asian and European nations will likely be announced in the coming months. The Ukraine war has continued to amplify Qatar's prominence in the LNG market, enabling it to diversify its gas exports and solidify partnerships. However, while long-term contracts bolster Qatar's position, they expose it to contractual disputes, especially with changing global LNG demands. Additionally, the shift to renewables threatens Qatar's LNG market dominance in the long term.
MONTHLY INSIGHT - JULY 2023
Mon, 31 July 2023
The future of post-coup Niger is being decided in Russia's Saint Petersburg and Nigeria's Abuja, as well as key security and commercial partner Paris, rather than the Nigerien capital Niamey. Pangea-Risk accurately forecasted the country risk pathway leading towards the July coup by elite military forces. Niger's next chapter will be intertwined with complex regional and geopolitical dynamics that are already playing out.
ETHIOPIA: URGENT NEED FOR DEBT RESTRUCTURING AS DEFAULT CONCERNS SPIRAL
Thu, 27 July 2023
Rumours of a possible default on Ethiopia's sovereign or sovereign-guaranteed debt are unconfirmed publicly but have again highlighted the country's elevated risk of non-payment of commercial loans. The government is initiating a fiscal strategy to halve its public debt ratio, even while bringing down a stubbornly high inflation rate below 30 percent. If a tentative peace deal in northern regions holds, an IMF programme may be finalised later this year, which would support the country's post-civil war economic recovery and fiscal stabilisation. However, a proposed surge in domestic borrowing may conversely raise local currency debt concerns and crowd out private creditors.
SPECIAL REPORT: IRAN'S OUTREACH TO AFRICA AIMS TO EASE DOMESTIC ISOLATION AND PROJECT STRENGTH
Wed, 19 July 2023
Iranian President Ebrahim Raisi's historic visit to sub-Saharan Africa in mid-July reflects a renewed emphasis on the continent, aimed at forging alliances to counter mounting economic and diplomatic pressure from the United States and Europe. As Iran seeks to expand its influence in Africa, the outcome of nuclear talks and efforts to address internal challenges will be pivotal in shaping its future. While domestic protests are on the decline, the potential for heightened violence in regions with ethnic and sectarian minority populations adds further complexity.
MONTHLY INSIGHT - JUNE 2023
Thu, 29 June 2023
Russian trade with Africa is just one tenth of China's trade with the continent. So, the current fixation on post-rebellion Russia's future in sub-Saharan Africa should rather be localised to a few fragile states that host Russian mercenaries, like Mali, CAR, and Sudan. Russia has carved a more significant role for itself in North Africa and the Middle East, where its arms sales, nuclear plants, and Black Sea wheat still prosper. Russian dependency in MENA is the focus of our special report that is available free to read below.
SPECIAL REPORT: PMC WAGNER REBELLION IN RUSSIA RAISES POWER SHIFT RISKS IN MENA REGION
Wed, 28 June 2023
The loose commercial and security network of Russian Private Military Company (PMC) Wagner Group will undoubtedly remain operational in the Middle East and North Africa, even under a different banner. However, Wagner's government clients in the region are understandably concerned about their security alignments following last week's aborted rebellion in Russia. Any power vacuum left by Russia would quickly be filled by rival Chinese PMCs or other regional interests, especially in Syria, Iran, Libya, and Sudan, as well as in the strategic Red Sea and Gulf of Aden.
SPECIAL REPORT: COUNTING THE COST OF SENEGAL'S STREET PROTESTS AND PROPERTY DAMAGE
Mon, 19 June 2023
Even while street protests and riots have not recurred since the 1-3 June outbreak of unrest, the prospect of more violence is highly probable in coming months. Senegal's main opposition leader has not yet been arrested, which remains a key trigger for resumption of protests, while non-political activist groups are joining the opposition's cause. Moreover, the suspected mobilisation of "agents provocateurs" alongside state security forces raises the prospect of more heavy-handed repression of protesters. Meanwhile, an assessment of the June protests, shows that arson, looting, and vandalism attacks have targeted French commercial assets, essential infrastructure, and symbolic locations.
MONTHLY INSIGHT - MAY 2023
Wed, 31 May 2023
During my recent travels through the commodity hubs of Amsterdam and Dubai, the outsized impact of the war in Ukraine on Africa and the Middle East has been very noticeable. On the one hand, markets with large populations like Egypt and Ethiopia have felt the brunt of higher food prices and dependency on Black Sea grain. On the other hand, many metals producers have inadvertently been boosted by the tightening of sanctions on Russian exports.
NAMIBIA: LITHIUM AND GREEN HYDROGEN IN THE SPOTLIGHT AHEAD OF 2024 ELECTIONS
Tue, 16 May 2023
A controversial case of contract frustration in the lithium mining sector highlights the politicisation of the extractives industry ahead of the upcoming elections in 2024. So far, mostly Russian and Chinese entities are being targeted in contract cancellations or license withdrawals, which feed into widespread grievances over environmental and socio-economic concerns over the mining and energy sectors. The ruling party will have to intervene in high profile cases to avoid the political opposition from capitalising on such issues at the next elections.
NIGERIA: SECURITY AND FISCAL ISSUES TO DOMINATE NEW PRESIDENT'S PRIORITY LIST
Fri, 12 May 2023
Nigeria's next president, Bola Tinubu, will begin his first term in office this month facing a range of mounting economic and security challenges, many of which require urgent policy action. However, given the contention around the February 2023 election result, it remains likely that Tinubu's reform efforts will meet with substantial resistance. In view of Nigeria's current economic situation, there is a heightened risk of civil unrest in the coming months, particularly if the incoming administration implements controversial policies, such as the long-anticipated removal of fuel subsidies and exchange rate reform. The World Bank may withhold funding if the fuel subsidy is not phased out, even while a long-anticipated naira devaluation is set to be delayed.
Get The Latest News From Pangea-Risk
Please submit your details to receive our Monthly Newsletter, including complimentary risk analysis, editorial, and infographics.